Home
>>
Xian Airport Guide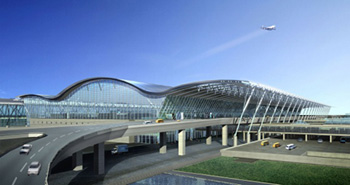 Xian Xianyang International Airport ( IATA Code: XIY ) is located in Xianyang City that is in the northwest of Xi'an, it's about 47 kilometers from Xian city center. Xian airport is the largest air transportation hub in Northwest China, it's also one of the top ten largest airport in China. Xian aiport has three terminal, Terminal 2 & Terminal 3 is mainly for all airlines.
Xian Airport has perfect transit facilities, smooth transfer process and complete the transfer service products, more and more airlines choose Xian Airport as part of the expansion of the transit point for its route network, promote the Xian Airport Transit business steadily.
72 Hours Visa-Free Transit
Since 1st Jun 2014, Xian airport also carried out 72 hours Visa-free Transit Policy for 51 countries. It's the eighth city that implement this policy, following Beijing, Shanghai, Guangzhou, Chongqing, Chengdu, Dalian, Shenyang. The traveler who have the third country visa doesn't need to apply the transit visa in Xian Xianyang International Airport for stop over within 72 hours. [ More details.. ]
Useful Numbers:
Airport Inquiry: +86-029-96788, +86-029-88796997
Shuttle Bus Inquiry: +86-029-88798780
Luggage Storage, Lost & Found: +86-029-88796107 (T2); +86-029-88796106 (T2)
Xian Xianyang International Airport Transportation
1. Xian Airport Shuttle Bus: Passengers can conveniently take the airport shuttle bus bettween Xian Xianyang International Airport and Xi Shao Men, Xian Railway Station, Hi-Tech Development Zone, Xian Hotel, Jianguo Hotel, Xianyang (Rainbow Hotel), Xi'an South Intercity Bus Station, Xian North Railway Station eight airport shuttle bus lines.
Price: CNY15 - 25/per person
2. Xian Airport Long-distance Bus: Xian Xianyang International Airport long-distance bus service center is located in the Ground Transportation Center (GTC) in Terminal 3, has opened the Baoji, Hanzhong, Weinan, Yanliang, Lintong (Terra-Cotta Warriors), Hancheng, Tongchuan, Yan'an, Yangling, Ankang, Shangzhou 11 province line, Tianshui, Xifeng and Pingliang 3 provincial lines.
Price: CNY 15-130/per person
4. Xian Airport Taxi: As the door to door transportation, taxi is the most convenient transportation.